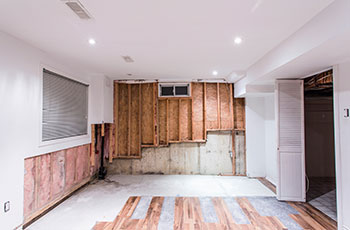 Every home and basement is different. Your foundation may be fieldstone, concrete block or cement. However, experts agree that the most common points of water entry are: floor/wall joints, floor cracks, wall cracks, bulkheads, windows, sill plates and pipe penetrations.
The end result is always the same – a damp, wet or flooded basement.
There are three components of a complete basement waterproofing system: crack sealants, interior water drainage and exterior waterproofing. When installed properly and professionally, these systems are highly effective and keep water from entering the basement. 
At Basement Technologies of Northern Virginia, we design and manufacture best-in-class basement waterproofing solutions. Whether you need a full perimeter interior basement drainage system or just a crawlspace vapor barrier, dehumidifier, battery backup or sump pump – we have the basement waterproofing products to keep your basement safe and dry – guaranteed.
Basement Drainage
Drainage is an efficient way to control rainwater penetration through foundation walls and to prevent moisture and condensation problems in basements.
Gutters and Downspouts
To solve moisture and water problems in basements, before waterproofing any walls or applying any insulation, you should install drain footings around the house and study the gutters and downspouts. Make sure that roof gutters (on your house's eaves) and the downspouts are working properly. They should be well cleared and opened: otherwise, rainwater would sit on the roof and run down the walls damaging the building and your foundation.
Sump Pumps and Battery Backups
A sub-floor basement waterproofing system linked to a sump pump is considered to be the most reliable and cost effective solution to basement water problems. However, power outages often occur during storms – particularly during heavy rains.
Battery Backups
If power to the sump pump is lost, a wet basement is likely to follow and the results can be catastrophic. For that reason, we recommend adding a battery backup or a whole home generator to every basement waterproofing system. 
Battery backups and redundant pump generators are designed to bridge 4-6 hour gaps of power loss during storms. Some homes are already equipped with a whole home generator system which can provide backup power for a much longer period of time. A whole home generator is always the best option.
Sump Pumps
Sump pumps come in many varieties and are diversified by horsepower. Most sump pumps are available in 1/3HP, 1/2HP and 3/4HP models. The sump pumps should be adaptable to 1½" PVC pipe for ease of installation. The 1½" PVC pipe is more than sufficient to handle large amounts of water in a de-watering situation. A 1/2HP pump is the best option for most basement waterproofing projects.
Sump Pump Installation
You can always buy a sump pump from a big box retailer, install it on your own over a weekend of hard manual labor, and forego a guarantee that it will work as intended in time of extreme need. Or…you can hire a professional to do it for you. 1-800-BUSYDOG Basement Technologies has years of experience installing sump pumps of all sizes in basements and crawlspaces alike.
Dehumidifiers and Moisture Control
Some of the biggest complaints we hear are related to damp basement floors and humidity. High levels of humidity can lead to the proliferation of mold and mildew which can decrease the value of property and lead to health related issues. In order to address these problems, we developed a line of patented basement dehumidifier systems to keep your home healthy, dry and mold-free.
Benefits of a Professional Dehumidification System:
A dry basement – guaranteed
Eliminates musty basement odors
Kills dust mites by lowering humidity levels
Stops dangerous mold growth that cause allergic reactions, asthmatic episodes, infections and other respiratory problems
Dehumidification Products
Our revolutionary basement dehumidifiers and crawl space dehumidifiers, the Humid-Evac®, Bon Aire, and Air Mop® 3 deal with humidity and condensation issues by drying under the slab before the moisture enters. Basements are similar to a cave, they are below ground level (subterranean) and are conducive to a damp, wet environment and need proper dehumidification to deal with these issues. Independent studies show that up to 80% of moisture in basements originates from under the floor, and if the source of the dampness is addressed, 80% of the problem is eliminated. With a basement dehumidifier installed the condensation should cease due to the temperature equilibrium and moisture extraction. Contact us today to find out about getting our basement dehumidifiers set up in your home.